I was recently given the opportunity to visit the System76 offices in Denver, Colorado as part of its Superfan 3 event. Unlike the ten winners of the Superfan 3 that submitted projects, I was invited along with four other members of the press. My trip started in the early morning hours of November 15th with my flight leaving out just before 6am, I barely got any sleep the night before due to my crazy level of excitement. I landed in Denver around 9am and immediately caught a ride to the hotel System76 had booked in downtown. System76 even had gift boxes waiting on us when we arrived stuffed with all sorts of neat swag.
Of course travelling the first part of the day and skipping breakfast left me starving, so after doing a brief search on my phone and reaching out to Emma from System76, I decided to go grab a bite to eat at the 5280 Burger Bar. Unbeknownst to me it was right below where the System76 offices were previously located. Once my belly was full it was time for me to waddle back to the hotel, unpack and take a quick nap.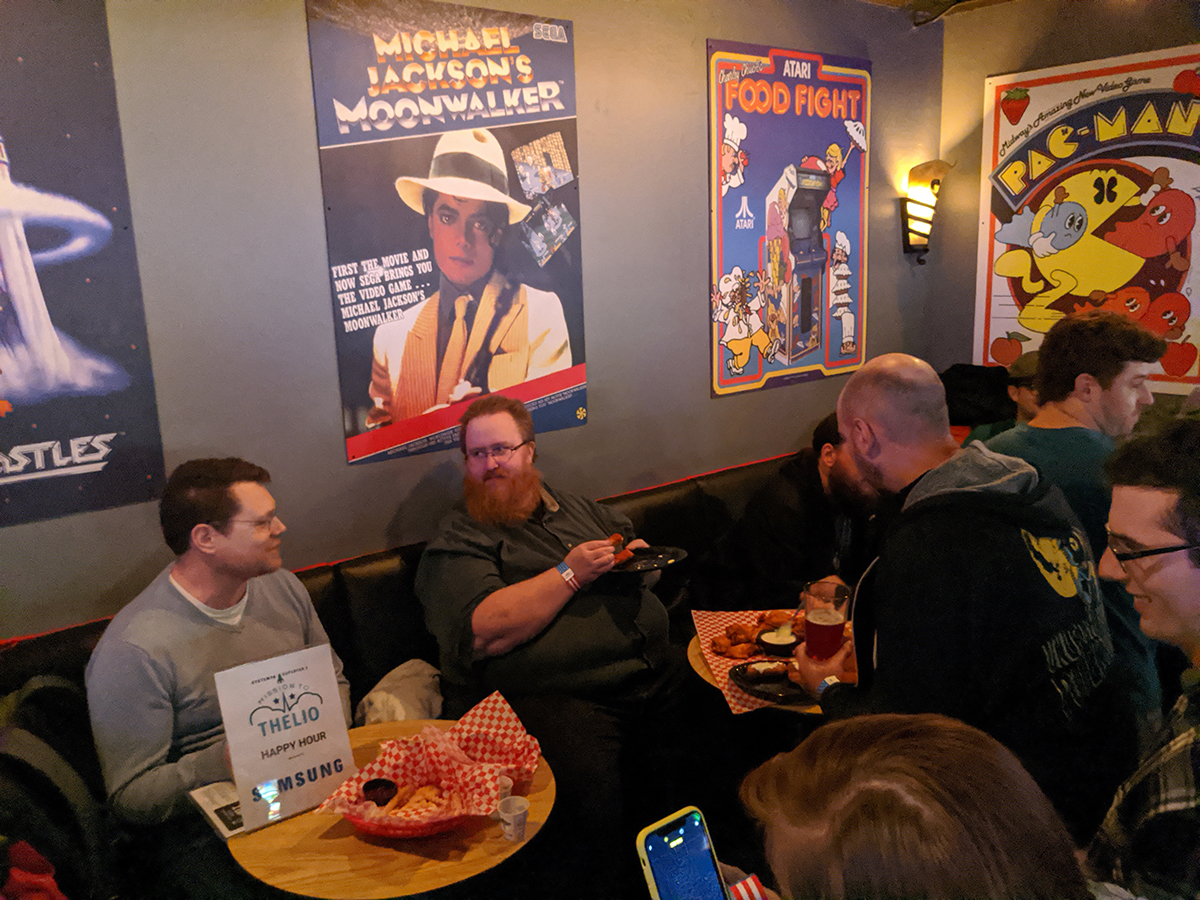 Before long it was time to toss my shoes back on and make my way to the happy hour event they had planned. A big thanks goes out to Adam Forshee from Samsung who sponsored this event and provided us with an awesome happy hour at 1up Arcade Bar, located just a short walk away from the hotel. This was such a great opportunity to meet a ton of awesome people, talk Linux, play some games, and nerd out for a bit. I even had a chance to get beat by Carl (System76's CEO) at Pacman, and by happenstance even ran into my Texan brother Carl George. Then, just like a quarter in an arcade it was game over for the night.
We had all been asked to gather in the hotel lobby at 8am the next morning to catch a shuttle over to the System76 office. On the shuttle ride Josh Woolery gave us a quick rundown of the day they had planned for us, a day that was sure to be full of fun and excitement. When we arrived we were greeted by Emma, and escorted into the building where we were broken up into three teams and prepped for our orientation for the mission to Thelio.
I ended up on the green team (the best team), and whisked off to the new recruit orientation, during which we were shown a brief and hilarious video and instructed not to "break shit." One of our teammates had the first clue which was hidden in their flight jacket. We were then ushered to the first stage of our mission. Once we opened the door to the warehouse we were greeted by a completely blacked out massive space that was dimly illuminated by black lights.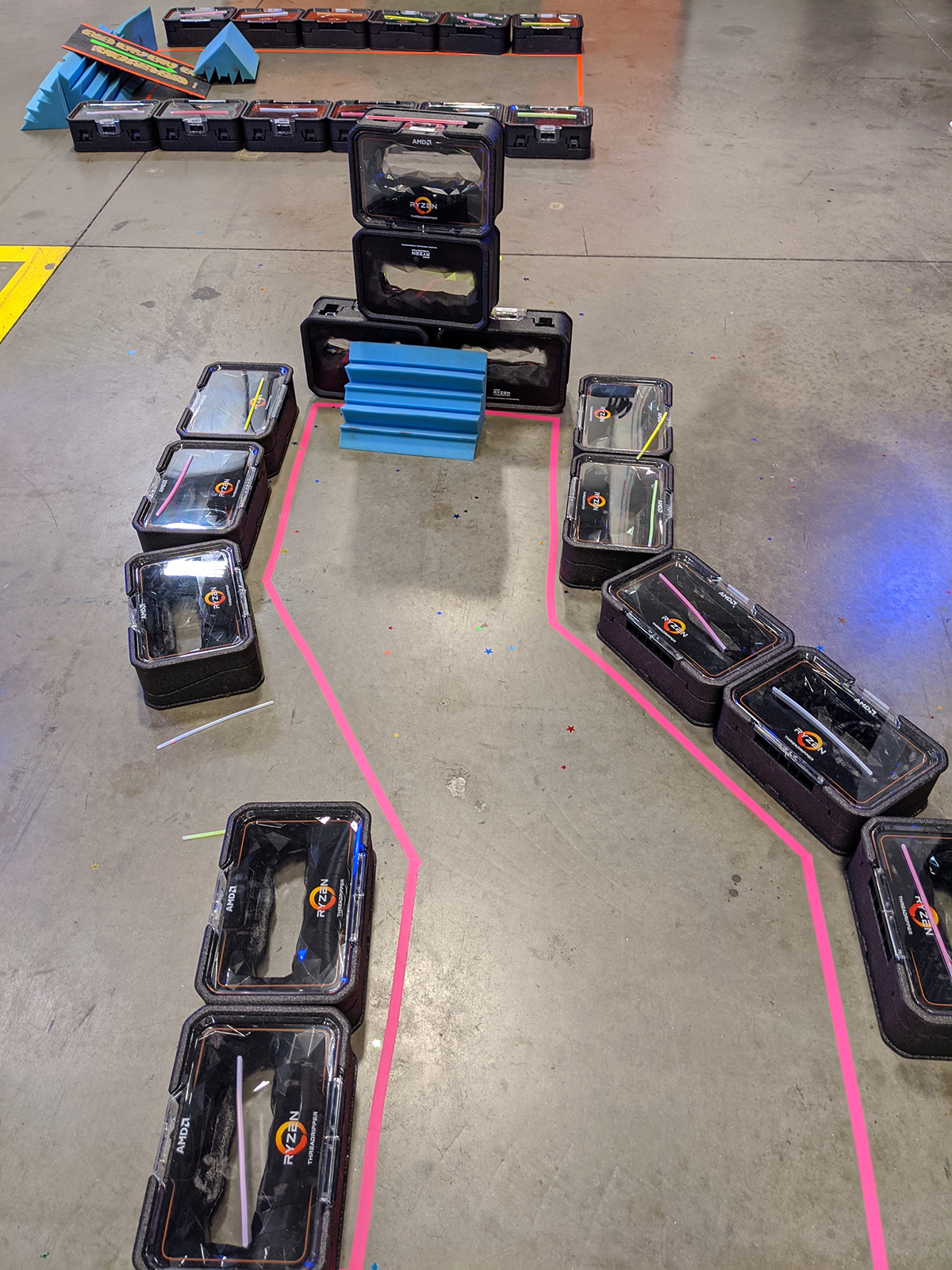 During the first stage we had to navigate our probe (a two wheeled drone) through a series of obstacle courses. Each team member was given a chance to navigate a course wearing a pair of "AI goggles" (safety goggles that were scratched to hell), and with help from our other teammates we each successfully navigated a series of courses. After completing that phase of our mission we were given another clue. This was the second of many clues we would end up receiving. A big thanks goes out to Dan Thompson for being our keeper of the clues.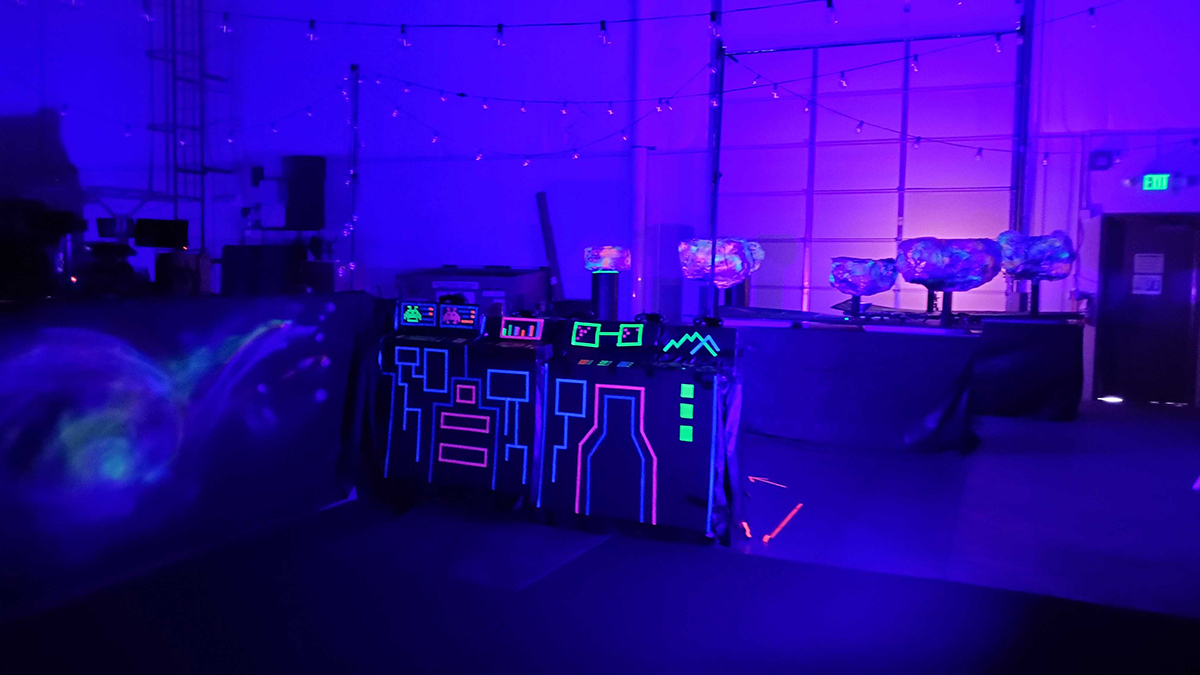 With one phase of our mission complete it was time to head off to the next phase. This time we each had to pilot a drone and successfully land on an asteroid - which might sound pretty easy, but was actually really difficult. Oddly enough our entire team ended up landing our drones on the side of the asteroid. Once we had each successfully landed our drone we were given another clue and progressed to the next phase of our mission.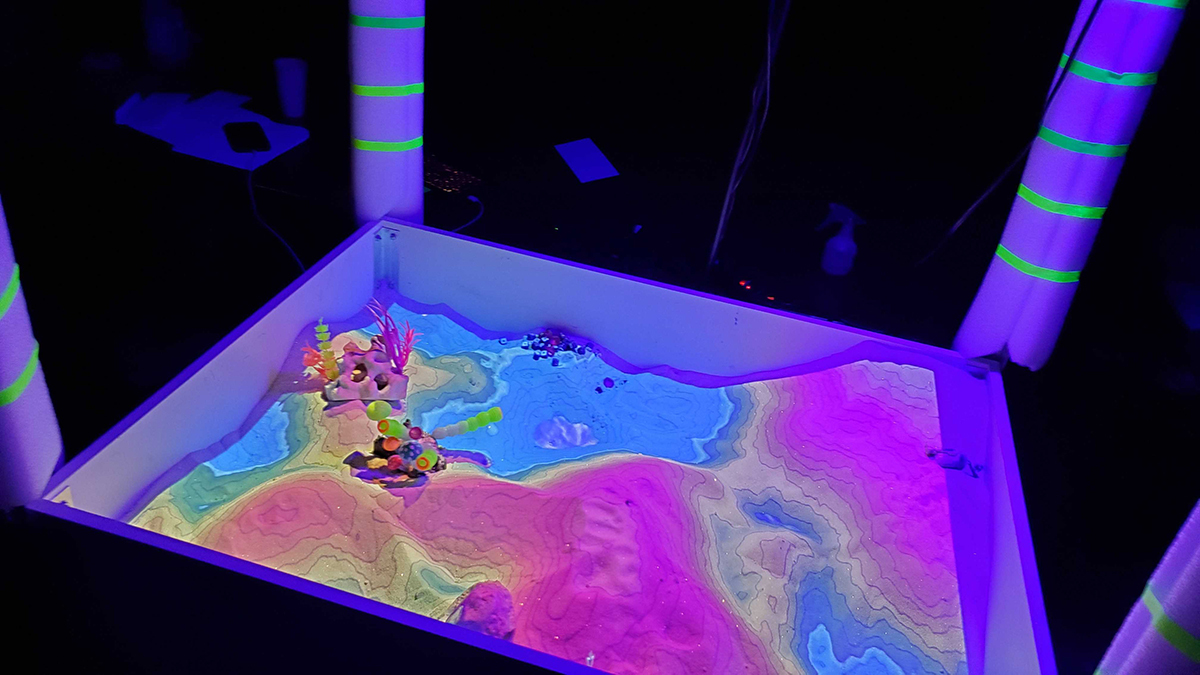 At the next phase we were instructed to manipulate the terrain of a planet to find clues to move forward to the next phase. This was actually based on a really cool augmented reality sandbox project that System76 developed a few years ago. Using a projector, Xbox kinect, and a sandbox we had to manipulate the terrain (play in the sand) to uncover a set of beads with letters on them. Once we uncovered the beads that gave us our last clue we were able to progress to the next phase.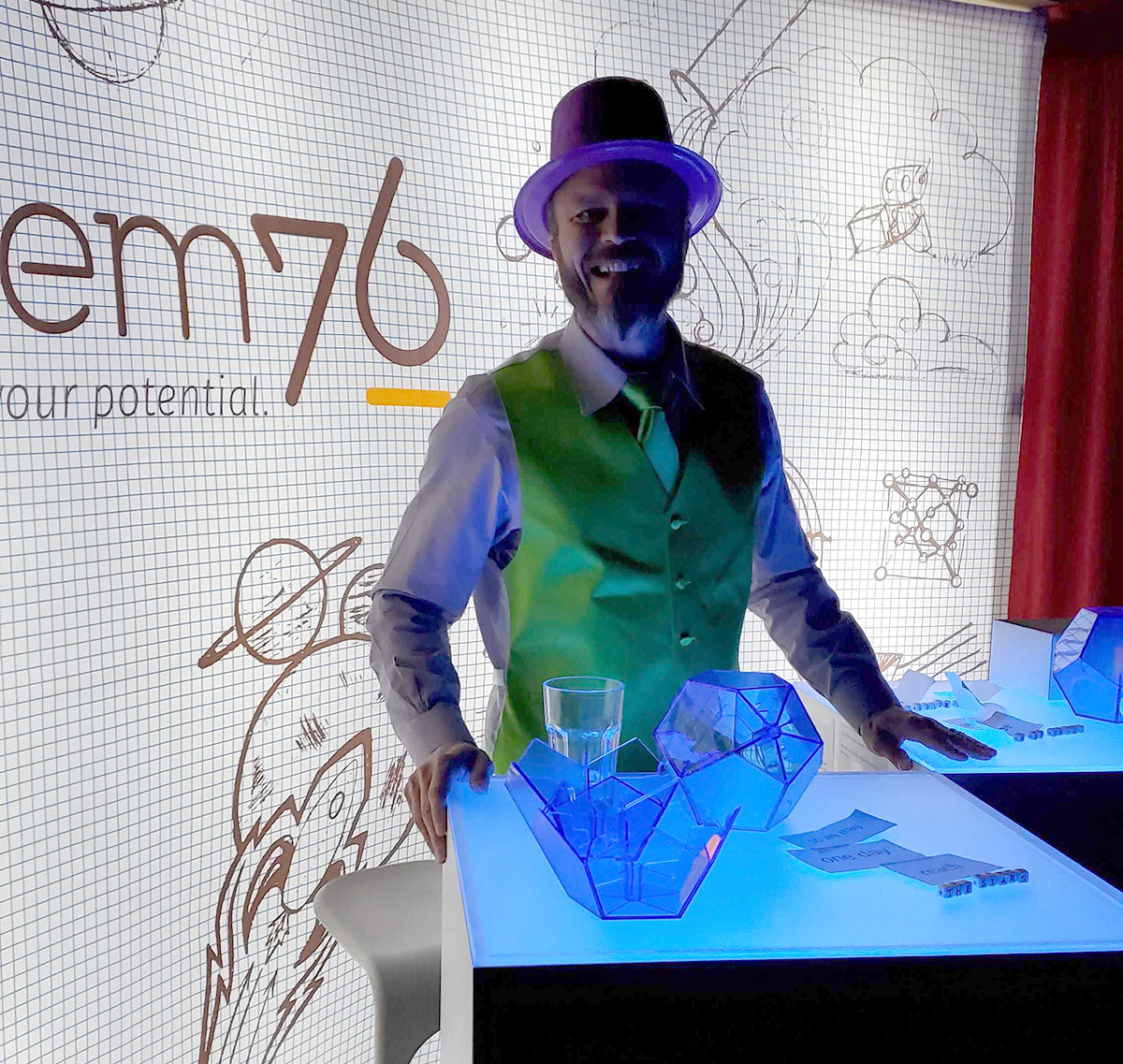 Arriving at the next phase we were greeted by Carl Richell (System76's CEO) where we began to decipher our clues. Since we were the second team to finish we had to wait for the last team so we could put all the clues together and move on to the next phase. When the last team arrived we put all of our clues together to unlock the secret quote "We stand atop the shoulders of the giants who came before us so we may one day reach the stars." As soon as we figured out the quote we "opened the passage to the Thelio system."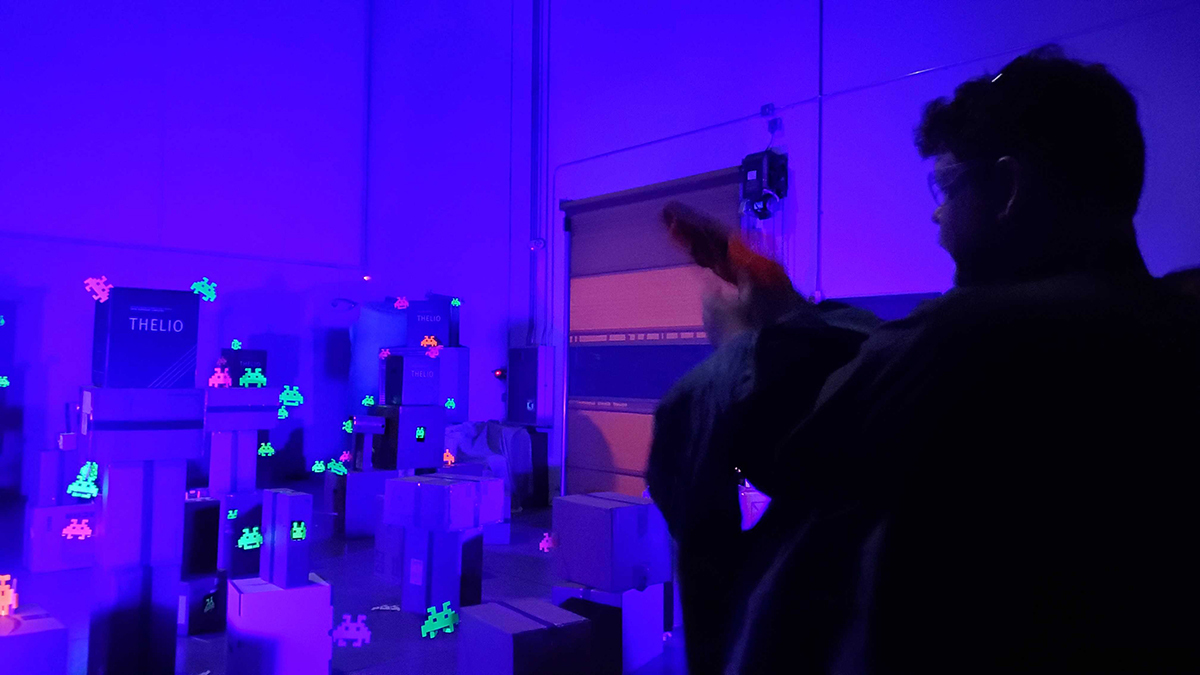 Once entering the Thelio system we came face to face with aliens (space invader cutouts) that were attached to a series of boxes scattered throughout a section of the warehouse. To defeat the aliens we were given blasters (Nerf guns), and instructed to destroy the aliens to gain access to Thelio. Honestly there isn't anything much more fun than a group of adults blasting fictional aliens with Nerf guns. After a couple of rounds we were instructed to move in and finish off the aliens.
Then came the real surprise. Once we had defeated the aliens a button was hit and a garage door rolled up to reveal a fog filled room where we were greeted by Carl and Tux along with a table that was loaded down with Thelios. Then Carl told us that we were each going to be given a brand new Thelio. It was very much like an Oprah moment (you get a car, you get a car, and you get a car). You could hear nothing but gasps and mumbles of disbelief that we had each been given a brand new Thelio which had been specially engraved for the event.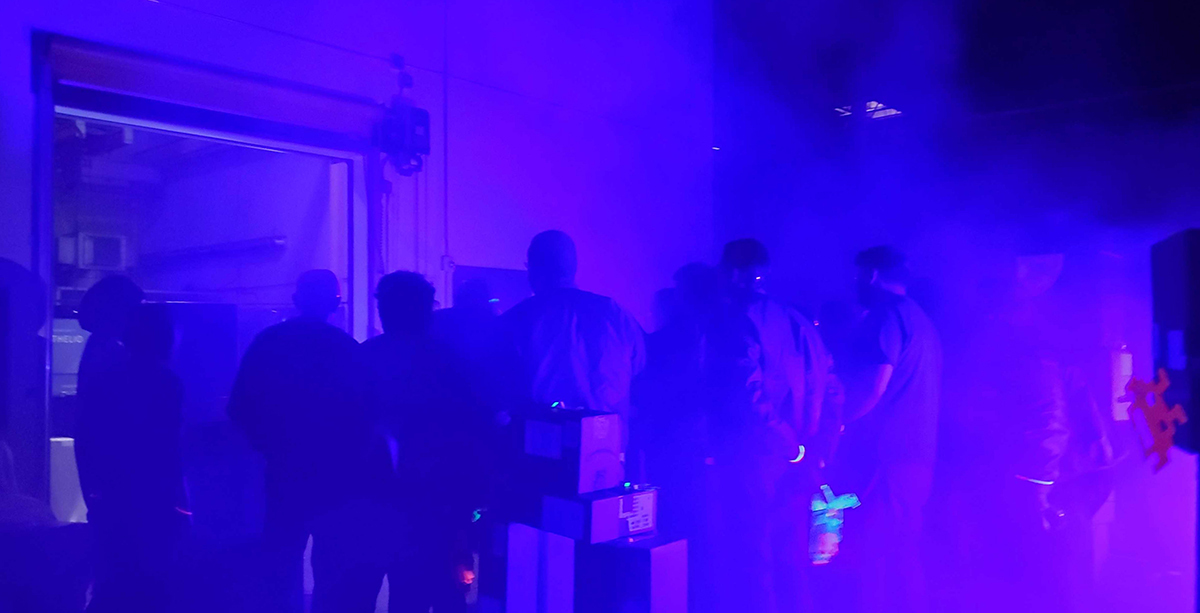 Not only was it a brand new Thelio, but a newly revised Thelio that included a modified bottom panel to seal off the chassis and side panels which were slightly modified to increase airflow. These revisions addressed user feedback that said the original Thelio was a bit noisy. With these new revisions they were able to drop the decibel level by a staggering 7dB. To me this just goes to show how closely System76 listens to its users.
Once all of us picked our jaws off the floor, the lights came on in the warehouse and we were directed to a giant conference table where they had catered in Kenny's BBQ for lunch. Obviously I took a moment to thank both Carl and Emma for the Thelio. I had literally been talking to Emma the night before about wanting to someday own one of these beautiful machines. She without a doubt was the "happiness manager" that day.
After chowing down on some tasty BBQ we all sat down for a three hour round table with several System76 employees including Carl, Jeremy, and others. That's when we were given the news that System76 will be developing and manufacturing its own laptops in the next few years. We were asked what we would like to see in a laptop, and by the end of that discussion we had created a laptop that would have probably cost about $4,000.
Then we got another sneak peek at a project that they're working on, an i3 inspired extension for Gnome called "Pop Shell." While it was just in the early stages of development it already looked really awesome. We were told that it was scheduled to officially be released with the 20.04 release of Pop_OS!. Before long it was time to jump back on the shuttle and head back to the hotel - only this time we had several System76 employees join us.
After a quick visit back to my room to toss my bag down I met up with the large group and we all made our way down to Wynkoop Brewing Co. to wind down the night with a couple of brews and a few rounds pool. After a few hours of chatting and gaming it was time to head back to the hotel and crash after a long day.
I had decided to stay an extra day to visit with my good friend Nate (Haplo) who drove down to hangout. We met up around 9am that morning and took a trip out of the city to meet up with Emma at Waterton Canyon for a day hike. I must admit that being in the city was really awesome, but to get out of the city and hit the trail was really awesome. We hiked about 3-4 miles that morning and then drove over to Mission, Co. to sit down and have breakfast at Red Rocks Grill. After breakfast we wondered around Mission for a bit to take in the sights.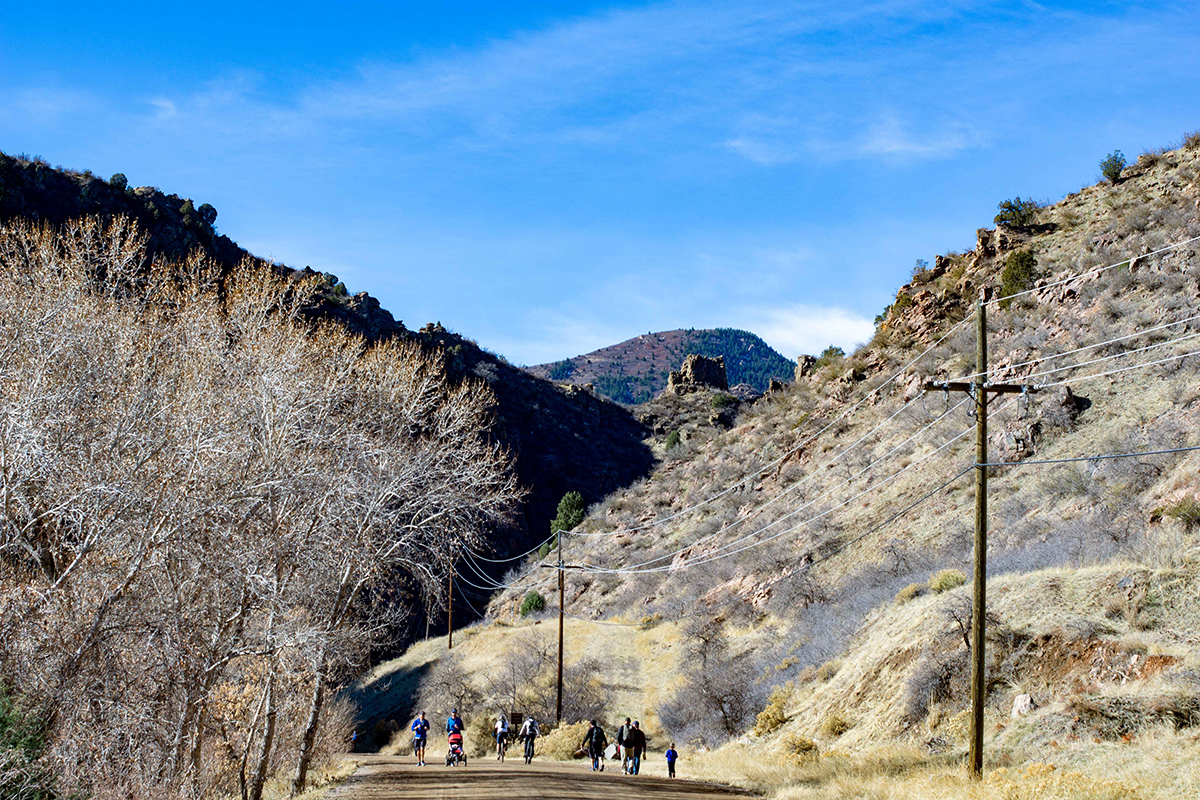 Then like the nerds we are we decided to head back toward Denver to meet up with Ian and Ben at another barcade where I quickly lost $10 in quarters, but managed to beat Nate at a few games :). After a few hours gaming we were all starving again and decided to head over to The Rock Wood Fired Pizza to grab some dinner and share in some great conversation. Once we finished dinner Nate dropped me back off at my hotel and that wrapped up another great day in Colorado.
Monday was my last day in Denver and my flight back to Texas was scheduled to leave out that afternoon. I quickly packed my bags and took a Lyft back over to the System76 office, where I sat out in front of the building like a weirdo while participating in the Linux Academy (Jupiter Broadcasting) Monday morning production meeting. Our meeting ended around lunch, which was just in time to go grab a bite to eat. Emma wrangled a few people and we took off to go grab a burger. Once we finished up lunch we went back to the office where I hung out for a couple more hours before jumping in a Lyft and heading back to the airport. That's when it really began to sink in that I had been part of a truly awesome experience and it was all coming to an end.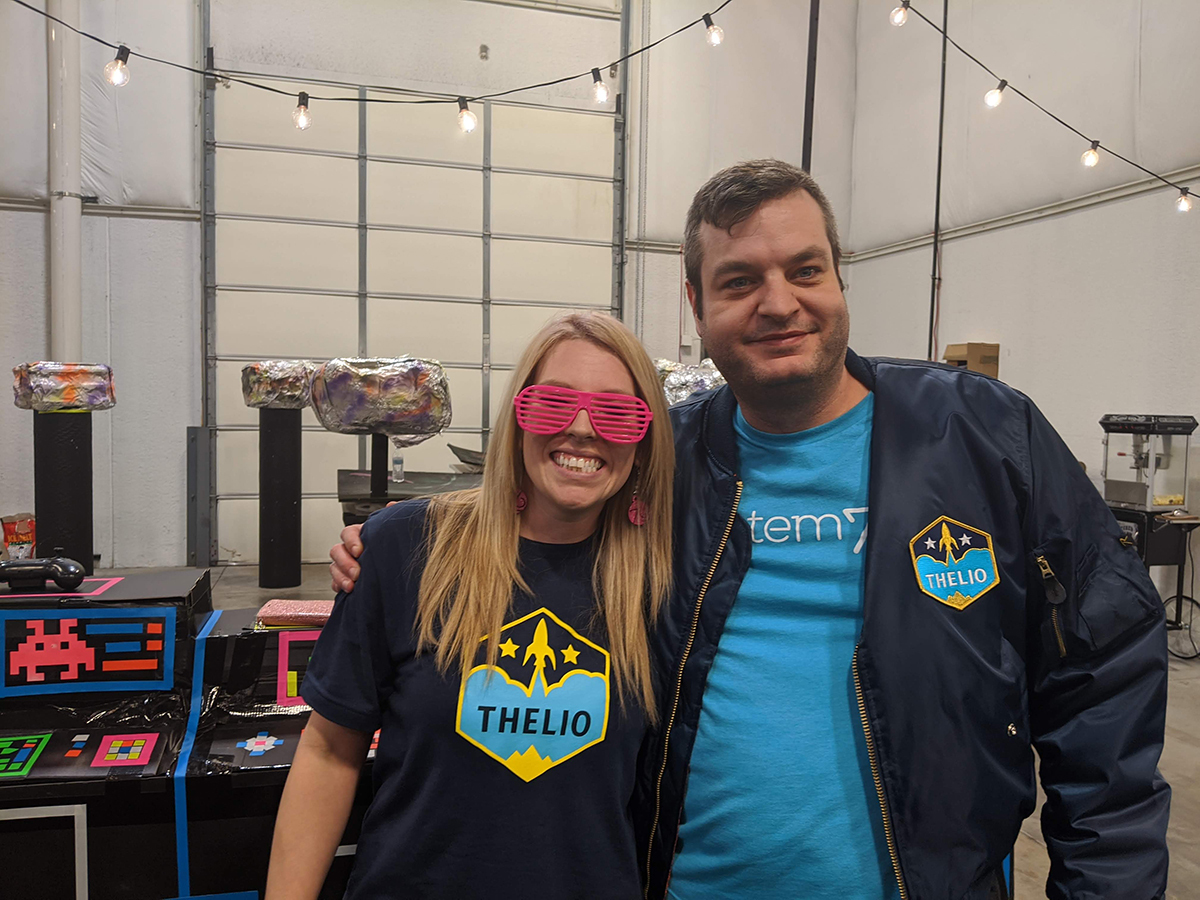 So, as a member of the "press" what did I really take away from this event? Well, I think the biggest thing for me were the people. Everyone at System76 really loves what they do and it shows. While it's nice being able to hang out with like minded Linux users, it's rather common, but being able to hang out with like minded Linux users that are creating hardware is a pretty rare occasion. I'm really grateful to have had such an experience, and definitely humbled by being asked to be a part of it.
I really would like to thank everyone at System76 including Josh, Myriah, Emma, Carl, Ian, Jeremy, Thomas, Kate, and everyone I met that weekend. I'd also like to give a big thanks to Samsung and AMD who both sponsored and donated the components in the Thelios we were gifted. I'm already looking forward to the next Superfan event and giving all our listeners an in depth review of the newly revised Thelio. Until next year, stay rad.